Hump dayyyy! This work week has been super busy which must be why I feel the week has flown by with hardly anytime to relax. But don't think that I am complaining! I'm all up for the weekend getting closer and closer! Remember how I told you a few months ago that I would tell you about my Airbnb experience? Well the time is here! But before diving in, check out my previous posts on Savannah
here
(part 1),
here
(part 2),
here
(food and restaurants), and
here
(shopping)!
So what is Airbnb and how did I hear about it? Well, do you remember the movie The Holiday with Cameron Diaz and Kate Winslet and they both have guy problems and decide to swap homes in each other's countries? Well they actually used Airbnb to do that. If you didn't see The Holiday, I advise that you go watch it because it's one of my favorite movies.
Airbnb
is a website that allows you to list, search, discover and book one-of-a-kind accommodations around the world! Want to go to Paris but actually see what it's like to "live" there? Go on Airbnb and find someone's house you can stay at instead of a hotel. Is your favorite hotel booked and you have no where else to go? Search Airbnb for someone who has an open room you can stay in.
I know, I know, it sounds a little sketchy but it's actually not! Each listing has been reviewed by individuals who have stayed at each particular location, and to leave a comment or "rate your stay", you have to be a member of the site in order to do so. Airbnb is a trusted site and the comments are very reliable in my opinion.
Trust me, I thought the same thoughts you are probably thinking, so I wanted to try it out for myself and see what all the hype was about. My destination of choice was Savannah, GA.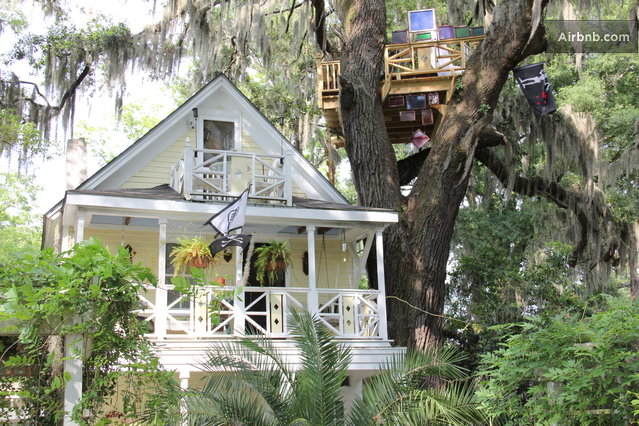 Located on Bonaventure Road, half a mile from the Bonaventure Cemetery lies the Diamond Oaks Treehouse, owned by a guy named Chad. Does his house look familiar to you? It might because it's been featured in Savannah Magazine, Glamour, and Country Living.
As soon as you walk in the front door, you get a feeling of being at home. Or the first words that might come out of your mouth are "wow". The whole house is warm and inviting, and everywhere you look there is something neat to look at (Chad collects all sorts of random items from local antique shops).
With WiFi, digital cable, parking, multiple porches, a treehouse, and many other amenities, the Diamond Oaks Treehouse is whimsical, magical, unique, and southern all-in-one. Here you have the option to stay in the
Parlor Room
or in the
Skylight Suite
.
The above photo is a view from the front door. To the left is the Parlor Room (where Will and I stayed), straight ahead is the living room, kitchen and sun room located in the very back. Adjacent to the living room is the first floor bathroom. And to the right of the photo are the stairs that lead to the next level.
Since the treehouse is the focal point of the house, I want to tell you about that before moving forward with the rest of the house tour. First, the treehouse is open to the elements, and you can not rent it out, rather all guests of the house have free access to it! Guests who stay in the Skylight Suite however have priority to enjoy it simply because of privacy compromised briefly by the ladder due to the skylights in that room. With that said, individuals staying in the Parlor Room check with guests upstairs (if there are any) and see if they don't mind you exploring the treehouse which I highly recommend you doing!
Let's just say that if you are scared of heights like me you might have concerns climbing up to the top and coming down. YOU ARE HIGH. I think Chad said it's over 30+ feet off the ground? But do it. Suck it up and get over your fear of heights like I did! The views are amazing and when the weather is perfect, it's a great area to relax. Chad has the treehouse decorated with twinkly lights that glow so nicely at night, and there is even a hanging airbed you can sit on! Now onto the guestrooms...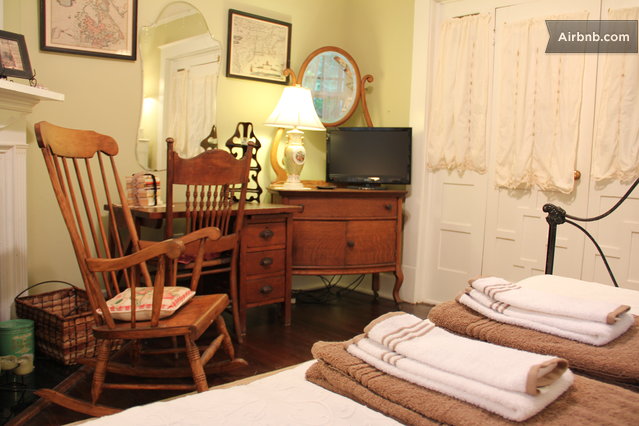 The Parlor Room is located on the first floor and features a double-bed, antique decorations, a flat-screen TV and has lot's of charm. The bathroom on the first floor is shared with Chad and has a shower and even a cool waterfall sink.
Once you have explored the first floor, you can head upstairs to the second floor where Chad's room is, the second bathroom (privately used by the Skylight Suite guests) and the cutest little reading nook I've ever seen!
See in the above photo the window to the right of the reading nook? That's the way you go out onto the roof which is were the tree swing is located, along with the ladder that takes you up to the treehouse! So yes, you are already "off the ground" when you step out of this window!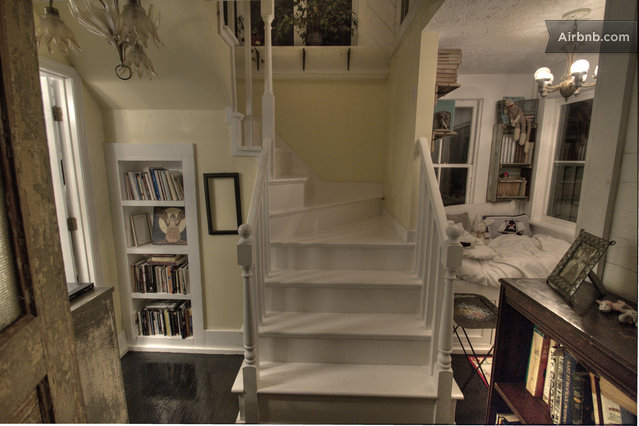 And then there was the Skylight Suite. I was so sad that this room was booked when Will and I visited but we will be sure to stay in here on our next visit to Savannah! This suite is an attic conversion that has 6 skylights that look out at the sky. There is a porch on one side and an entire triangle of picture windows on the other. A queen bed is in the center of the room and even has a flat screen TV!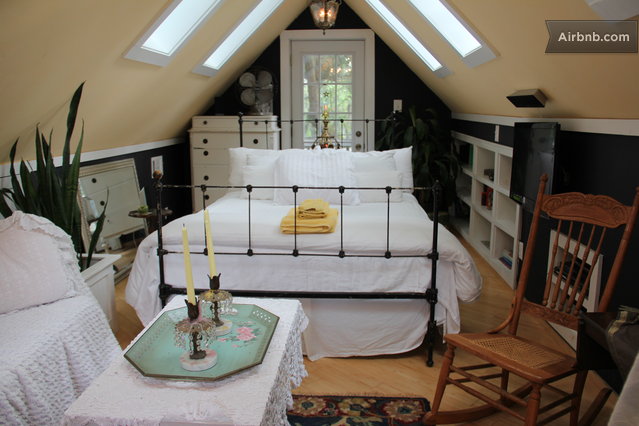 And there you have it! The Diamond Oaks Treehouse tour! My experience couldn't have been better and I highly recommend checking this place out. Chad was such a great host and hardly at home, so Will and I truly felt like we had the place to ourselves. We never once felt like we were "barging in" and truly felt at home. Our experience was similar to one you would have at a B&B if you want to think of it that way. And the location was perfect. Tucked away in a precious little neighborhood and only a short drive to all of Savannah's main attractions.
Thanks for checking out today's post! Let me know if you have ever used Airbnb and where you have stayed/traveled too! Oh! Don't forget to linkup with
What You Wish Wednesday
. It's really quite simple. Write a post or feature a post on anything your precious heart desires! Once you've done that, include the WYWW button to your post and make sure to check out the other hostesses' blogs:
Leslie
,
Stasia
, and
Nikki
.