I have been encouraged, challenged, and loved by fellow bloggers.
My eyes have been opened to the similarities and differences between me and those I follow.
I have grown confidence in myself. I have seen others transform into something magical.
I have found a passion. A network of new friends. A new found hobby.
I feel like it has been YEARS since I first started reading blogs. I remember the very first day that I started following a handful of blogs (before I had the courage to start my own) and thought about how neat it would be to document my life in a blog format, and overtime, be able to look back to see all of the things that I was interested in and going through. It wasn't until recently that I have been able to see how blogging has been a blessing in disguise.
Since blogging has been pulling on my heart strings recently (in a good way), I thought today would be appropriate to let you know what some of my favorite blogs are to following and who some of my favorite bloggers are! I hope you enjoy --> and be sure to give some love to the gals I mention :)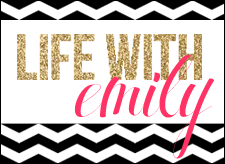 The first blog I ever started to follow was Emily over at
Life with Emily
. I've known Emily for
years
and she was always the most fashionable one of all my friends. So it is no surprise that Em's blog is all about fashion and her everyday life through photography. Emily's blog never lets me down...not only am I jealous of her jewelry collection, but she always writes about her fun adventures and her photos are always top notch.
Caitlin behind
Southern Curls & Pearls
is one-of-a-kind. Not only have we become real life friends, but she is seriously the sweetest southern belle you will ever meet. Caitlin is known for putting together really great outfits, having AMAZING giveaways, and is keen on healthy living. Cait is defiantly someone you can learn a lot from and her blog is one of the first that I read in the mornings.
Funniest and most lovable award goes to my sweet Alyssa over at
The Lesson Plan Diva
. Alyssa is fairly new to blogging as well and has become one of my closest friends. We first met when we went to Caitlin's Lilly Pulitzer event and hit it off right from the start. I love checking out A's blog because she does some really good recap posts on her weekends and writes about finding her place in this world and as an upcoming teacher!
Chelsea Kebrdle. Words can't express how thankful I am to be blog friends with this gal. Chelsea blogs over at
The Kebs
and is a Military wife to the love of her life and currently living in Texas. Chelsea emailed me a few weeks ago, and have since emailed back and fourth just about everyday. She is such a strong Christian and has been such an inspiration to me this month. Chelsea said recently exactly what my thoughts were on our new friendship: "I genuinely have thanked the Lord for us connecting and pray that our friendship continues to grow and that He have his hand on us becoming "real life" friends in the future".
Anytime I need writing inspiration, I immediately turn to Haley's blog over at
Sequins and Things
. Her blog always draws me in. Not only does this pretty girl write so well, she is
adorable
and always puts things into perspective. Yet another blog I read for this in the morning. And to top things off, she seems so genuine and someone we all would be lucky to know.
Lastly, meet Sibi. You can find her blog over at
Pearls and Grace
. This gal is one of those bloggers that I would say touches on so many areas/topics that I like to read about. She is smart, classy, and full of life. She is someone I would say has truly enjoyed life and lives one day at a time. Sibi has touched on topics (her recent one being 31 Days To Becoming His Pearl Series) that really make me think...and I am always finding myself sharing with other the things she has written because they are
that good
.